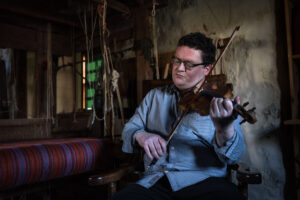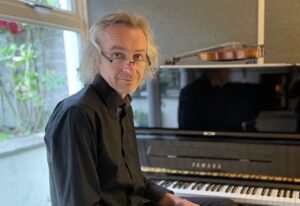 The highlight of this week was the concert at St Andrew's on Thursday evening which was q wonderful event. Alastair Savage the fiddle player who has played for the BBC Scottish Symphony Orchestra for 24 years, treated us to a variety of Scottish folk music beginning with pieces by the famous 19th century composer Neil Gow followed by pieces from Ayreshire where Alastair comes from and then moving north to the Tay area and on to tunes from Orkney where Laurence Wilson is from. He ended with some folk music from America to reflect the journey of many Scots to America. Altogether a musical journey!
The music was very varied with some beautifully reflective tunes and others very toe tappingly lively. It was interesting to hear a little bit of background to all the music and also that the violin Alastair was playing had belonged to his great grandfather and had only fairly recently been repaired after being in his father's loft for many years. It was the 25th violin made by James Gilchrest so was very special.
It was a lovely relaxed atmosphere and such a joy to hear live music, hopefully the first of many more concerts. Thanks to Alastair and Laurence for their music, Geoff and Penny for organising it and to Robert for all his work in preparing the church beforehand and advertising the concert so well.