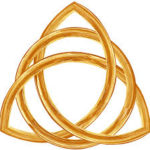 Isaiah 40:12-17, 27-31
2 Corinthians 13:11-13
Matthew 28:16-20
In times of trial and tribulation it is always a good policy to give thanks to God. This week in true trinitarian style I can think of three things I would like to give thanks for.
Golf is now back on the agenda!  I had my first nine holes on Thursday with my golf chum Jill.  It was wonderful to be back out on the golf course which was looking stunning.  The sun was shining, the scenery glorious and my golf was unexpectedly acceptable! It was also good to exchange news and views with Jill.  The joy of having a normal conversation with someone without the aid of a Zoom was terrific.
Cooking has been a big feature of our lockdown as we have experimented with new recipes in a bid to vary our usual repertoire of delights.   Curries are always a big favourite in our household; and on Tuesday I tackled a new version of prawn curry. It was a great success and hugely enjoyable. Having been set in my ways for many, many years  it is an inspiration to embrace new dishes!
Ted has undergone some serious dog training this week.  Stephen has been helping me to undertake this challenge.  Between us we have been encouraging him to walk at heal.  To be fair to him, he is responsive and cooperative, but it is hard work and does involve considerable concentration from both me and the dog. It is very much a case of one step forward, two steps back.  We haven't even started on Claude and Trixie!
Today is Trinity Sunday: the days we celebrate the relationship between God the creator, God the Son and God the Holy Spirit.  One God but manifested in three ways.  This concept of a trinitarian God is unique to the Christian faith. Today in our scripture readings we are reminded of this fact.  In the Old Testament, the prophet Isaiah is bringing hope and words of encouragement to the people returning from the exile.
"The Lord is the everlasting God,
the Creator of the ends of the earth.
He will not grow tired or weary,
and his understanding no one can fathom.
He gives strength to the weary
and increases the power of the weak.
Even youths grow tired and weary,
and young men stumble and fall;
but those who hope in the Lord
will renew their strength.
They will soar on wings like eagles;
they will run and not grow weary,
they will walk and not be faint."    Isaiah 40:27-41
As we emerge from our lockdown these words can also speak to us and remind us of God's greatness and his compassion for his people.
In the gospel we hear about "The Great Commission".  Here Jesus, the Son of God instructs his eleven remaining apostles to go and make disciples of all nations, reaching out beyond the bounds of Israel to the farthest places of the earth.  The fact that we are reading this gospel is a testimony to their effectiveness in doing just that.
In the letter to the Corinthians Paul is bidding them farewell with a form of words which represent the Trinity and which Christians have used throughout the ages.  Simply known now as "the grace" the words remind us of those early Christians whose faith, courage and trust enabled the Great Commission to succeed. I leave you with the words:
"Finally, brothers and sisters, rejoice! Strive for full restoration, encourage one another, be of one mind, live in peace. And the God of love and peace will be with you.
Greet one another with a holy kiss.
All God's people here send their greetings.
May the grace of the Lord Jesus Christ, and the love of God, and the fellowship of the Holy Spirit be with you all."   2 Corinthians 13:11-13
"Greet each other with a Holy Kiss".  I wonder what the scientific advice to Nicola would be on that one?!!
Don't forget the Coffee Zoom at 11.45!
Now that we are permitted to mix in a limited way, please let me know if you would like me to visit, albeit outside, socially distancing.    I would be delighted to see any of you.
Tomorrow the Eucharist for Trinity Sunday will be available at 11am online. http://www.scotland.anglican.org/broadcast-sunday-worship/ Alternatively, you can access it by going straight onto the Scottish Episcopal Church website. I will look forward to joining you all again via YouTube on Thursday for our morning Eucharist
My love and prayers to you all as always
Andrea