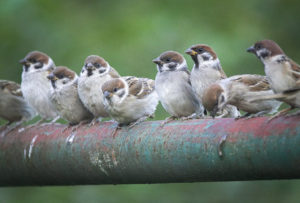 Jeremiah 20:7-13
Romans 6:1-11
Matthew 10:24-39
"Don't be afraid; you are worth more than many sparrows."
This week's letter starts with the sad news that Rosamond Falconer has died.  She died peacefully in Antonine House on Thursday afternoon.  Owing to current restrictions her funeral will be held privately at Clydebank Crematorium. Thus, on our own, we reflect on her great character with much warmth and affection.  And there are certainly many memories!  Rosamond was a bright spark!  She was a stalwart member of St Andrew's for many, many years, taking a full part in all aspects of church life.  I always enjoyed her company.  I have particularly fond memories of her contribution to the Thursday Fellowship.  She especially loved the outings to various places.  Her final ones being to The House of an Art Lover, House of Darroch and a boat trip on Loch Katrine where Robert took a super picture of her, Nan and George Farrow.   Her last years have been spent at Antonine House where she was able to receive visitors regularly.  I shall miss our conversations: hearing about her childhood in India; Devon where she held very fond memories of school while living there with her mother throughout the war.
Rosamond had a strong faith sustaining her throughout her life, we may be confident that she now rests in peace and will rise to glory!
We will hold her and her family in our prayers.
I have always been a great one for jigsaws.  Previously over winter months I have stolen precious time to indulge in this habit.  One of the great joys of lockdown was the license to indulge all day and every day!  Of course, I was first in the Dobbies queue when it reopened recently to replenish my supply.  There was even a brisk trade of puzzle swaps on my doorstep last week as Clare and I exchanged precious goods. The joy and satisfaction of finding that little piece of cardboard, finding its rightful place and so creating the final picture has no bounds.
But if only all life's puzzles were that easy!  At the moment the vestry is trying to work out how many people you can fit in the church at a 2 metre distance, divided by the number of chairs available and times by the number of hand sanitisers required!
Today our scripture readings are somewhat puzzling too.  At first glance they do little to raise the spirits.
In the Old Testament reading Jeremiah (who has a reputation for being gloomy) true to form, is complaining to God that he feels deceived by him. He feels his prophecies have brought him nothing but ridicule and ruin.  Yet he knows he must speak the word of God.
In the gospel Jesus warns his disciples that following him and proclaiming his word will not be a straightforward task.
"Do not suppose that I have come to bring peace to the earth. I did not come to bring peace, but a sword".   Matthew 10:34
Yet he also tells us how valued we are and how loved we are as individuals.
"Are not two sparrows sold for a penny? Yet not one of them will fall to the ground unperceived by your Father.  And even the very hairs of your head are all numbered.  So don't be afraid; you are worth more than many sparrows."
Matthew 10:29-31
Paul in his letter to the Romans is more encouraging as he assures us, through the resurrected Christ, of God's eternal love and forgiveness.  In a world of social unease this powerful Christian message of God's love and forgiveness is particularly poignant.
I look forward to our Coffee Zoom at 11.45 and I will be sending a separate invitation by e-mail just like last week.
Please let me know if you would like me to visit, albeit outside, socially distancing I would be delighted to see any of you.
I will look forward to joining you all again via YouTube on Thursday for our morning Eucharist
My love and prayers to you all as always
Andrea