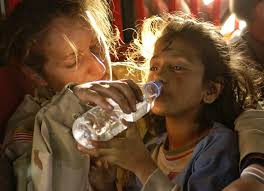 Jeremiah 28:5-9
Romans 6:12-23
Matthew 10:40-42
On Wednesday Stephen and I went on a "mercy mission" to Perth to visit an old family friend who is now in her mid-90's.  "Auntie Phyll" was a great friend of my late mother's.  They met just after the war as probationary nurses at The Dundee Royal Infirmary.  Their families had known each other from Tayport.  Apparently, the story goes that Phyll had been instructed to look after my mother who was younger and was considered rather shy and vulnerable.   Phyll obviously did as she was told and a lifelong friendship was the result!  It was certainly lovely to catch up with Phyll who had endured the lockdown with great spirit and resilience.  Thankfully the weather was superb, so we were able to enjoy our picnic lunch in her garden: Phyll sitting in the door of her sun-room with Stephen and I getting hotter and hotter on her terrace.   The dogs were having a great time playing in the shrubbery and snoozing in the shade.
To make the most of the outing we motored via the scenic route both ways.  The countryside was looking very lush; it was such a treat to be out and about again.  On the way back, to give the dogs a run, we stopped at Gleneagles where we had a lovely stroll on The Centenary Course. It was wonderful to hear the birds singing, feel the sun on our faces and listen to Stephen purring over the condition of the tees and greens.
The day finished with a Zoom book group.  This was the first time we had "met" since the lockdown.  There was a great deal of scratching of heads as we attempted to recall the book which was set back in April, but we did well!
On Wednesday this week Bishop Kevin will officially become our new diocesan bishop.  Sadly, the usual pomp and ceremony will not take place but there will be some form of digital welcome for him.  I have, on behalf of St Andrew's, sent words of welcome.  Bishop Kevin faces many challenges, especially given the current circumstances, so I have assured him of our prayers
This week's scripture appears to be an eclectic mix of subjects making it difficult to find a common theme.
In the Old Testament we once again hear the words of the prophet Jeremiah.  This week he is in conversation with another prophet Hananiah who, in contrast to Jeremiah, is in an upbeat mood full of optimistic plans.  Jeremiah meanwhile sings a more cautious tune urging greater discretion against false prophets and their promises.
"But the prophet who prophesies peace will be recognized as one truly sent by the Lord only if his prediction comes true."     Jeremiah 28:9
In the short gospel passage Jesus is encouraging his disciples to love and to offer hospitality to each other.  This includes even a cup of water to the "little ones" which probably referred to children and the most vulnerable.
In Paul's rather complex message to the Romans he is stressing the importance of Christs forgiveness.  Through his grace we are no longer held in captivity by our own sin.
"For the wages of sin is death, but the free gift of God is eternal life in Christ Jesus our Lord".   Romans 6:23
Perhaps the thread that links these readings is acceptance:  Jeremiah urges his people to accept the true word of God; in the gospel Jesus encourages his disciples to accept all people even the least of us and in the epistle Paul is stating that God through his grace  (his unconditional love and forgiveness offered to everyone) accepts all into his kingdom.
One of the hymns Rosamond has chosen for her funeral is "Just as I am."  It is a beautiful hymn which is often sung at the Eucharist as it is essentially a hymn of humble access.  It is all about acceptance: God accepts us just as we are and we in turn present ourselves to God just as we are knowing that he loves us and forgives us.
"Just as I am, Thou wilt receive,
Wilt welcome, pardon, cleanse, relieve;
Because Thy promise I believe,
O Lamb of God, I come, I come!"
We continue to hold Rosamond's family in our prayers as they prepare for her funeral this week. "May Rosamond rest in peace and rise to Glory"
I look forward to our Coffee Zoom at 11.45 and I will be sending a separate invitation by e-mail just like last week.
Please let me know if you would like me to visit, albeit outside, socially distancing.    I would be delighted to see any of you. I will look forward to joining you all again via YouTube on Thursday for our morning Eucharist
My love and prayers to you all as always
Andrea