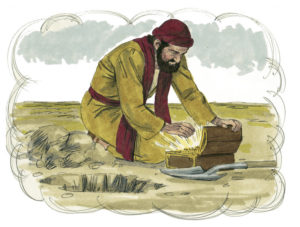 1 Kings 3:5-12
Romans 8:26-39
Matthew 13:31-33,44-50
This week sees our first Sunday back in church – Hooray!!  It will be wonderful to be able to worship in our church once again.  Clearly there will be changes, not everyone is able to return yet and singing is not allowed but it is a great start! There will be no coffee zoom for the moment.
The Sunday service is at the same time 10am.  Please come to the main door and wait to be seated.
As I will be away for three weeks in August the Thursday Eucharist will not start till 3rd September.  I will continue to record the service on YouTube until then.
The Sunday Eucharist from the Scottish Episcopal Church will continue to be available at 11am online.  http://www.scotland.anglican.org/broadcast-sunday-worship.  Alternatively, you can access it by going straight onto the Scottish Episcopal Church website.
This week we had a wonderful time with our family celebrating my sister's 60th birthday.  After the months of lockdown, it felt even more special to be together.  Our rented accommodation on the banks of Loch Tay was perfect and the location superb.    The dogs had a great time tearing down to the loch for a good sniff and in Ted's case a swim. On one of the days we drove to Glen Lyon, we went all the way to the top admiring the ancient Scots Pines and the sheer remoteness of this extraordinary pretty glen – shades of God's kingdom at its best!
In the gospel today Jesus continues his teaching to the crowds about the kingdom by relating parables.  In a similar vein he talks about the kingdom in terms of treasure hidden in a field and a merchant finding a fine pearl, once discovered these trophies must be valued and nurtured because they are beautiful and special.  The passage ends with the final parable which is quite different in tone and brings us up short.  Again, we hear words of judgement with the evil being separated from the righteous at the end of time, and so we are brought back to the reality of life with its mix of woes and joys.  These words of judgment may sound chilling if taken at face value, but I think they bring us hope because they imply that in the end good and bad can be separated and so we can look forward to a time when there will be a new heaven and a new earth.
"Then I saw a new heaven and a new earth, for the first heaven and the first earth had passed away, and there was no longer any sea………… And I heard a loud voice from the throne saying, "Look! God's dwelling place is now among the people, and he will dwell with them. They will be his people, and God himself will be with them and be their God.  'He will wipe every tear from their eyes. There will be no more death or mourning or crying or pain, for the old order of things has passed away."  Revelation 21 1-4
The words from Saint Paul in his letter to the Romans brings us further hope when he tells us that nothing, no matter what, can separate us from the love of God.
"Who shall separate us from the love of Christ? Shall trouble or hardship or persecution or famine or nakedness or danger or sword?…………For I am convinced that neither death nor life, neither angels nor demons, neither the present nor the future, nor any powers, neither height nor depth, nor anything else in all creation, will be able to separate us from the love of God that is in Christ Jesus our Lord."   Romans 8:35-39
In the Old Testament reading God asks the new King Solomon what he would like most of all.
"Give your servant a discerning heart to govern your people and to distinguish between right and wrong. For who is able to govern this great people of yours?"  1 Kings 3:9
He doesn't ask for anything for himself but simply for wisdom.  May that be our prayer for ourselves and for those who govern us in these challenging times.  We pray that we all will have the wisdom to discern what is good and what is not in this earthly life but also the wisdom to discern divine truthwhich is for eternity.
I will look forward to joining you all again via YouTube on Thursday for our morning Eucharist.
My love and prayers to you all as always.
Andrea