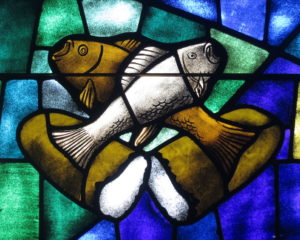 Isaiah 55:1-5
Romans 9:1-5
Matthew 14:13-21
Last Sunday was our first Sunday back in church; what a joy it was to be worshipping together again.  There may have been no singing but Gordon more than made up for it with rousing organ music!
This Sunday the service is at the same time 10am.  As before please come to the main door and wait to be seated.
The Thursday Eucharist will not start till 3rd September at the earliest.  I will try to record the service on YouTube while I am away on holiday, but I cannot promise this as there may not be sufficient internet available.
The Sunday Eucharist from the Scottish Episcopal Church will continue to be available from 11am online.  http://www.scotland.anglican.org/broadcast-sunday-worship.  Alternatively, you can access it by going straight onto the Scottish Episcopal Church website.
One of the joys of lockdown has been seeing so many more people out and about enjoying the countryside.  Since the five-mile restriction has been lifted Mugdock has been heaving, even on weekdays.  One of the greatest sights is seeing the streams of people flocking down to the loch in wetsuits and bathers. On more than one occasion it felt like I had been beamed back to the south coast on a hot bank holiday afternoon with groups of people lying on the grass, all enjoying leisurely picnics in the sunshine.
Today in the gospel we have the great story of the of the feeding of the five thousand – the ultimate picnic!  Here Jesus miraculously feeds a great multitude of people; not only demonstrating the huge size of crowds now following him but also his extraordinary compassion and power.  This authority over the natural order is observed again in his stilling of the storm and walking on water, where we continue to hear of the huge interest in Jesus, evident in the large crowds that gather wherever he goes.  People were desperate to be healed and restored.
In contrast to this scenario, in the epistle Paul is dejected and depressed, struggling to understand why some people of Israel still reject the messiah.
It is the same today as most people reject or show indifference to the gospel message. And yet churches still flourish, some more than others.  Since church has gone online there has been much more interest.  However, whether that will turn into any form of discipleship is yet to be proved.  But we are also a nation of people wanting to be healed and restored.
Perhaps healing and restoration, therefore, is the theme of our readings today. In the OT, the prophecy from Isaiah dwells once more on the forthcoming reunion between God and his people. This wonderful prophecy of restoration, he says, will soon be fulfilled, demonstrating the faithfulness of the Lord to his word, and encouraging us to take God's promises more trustingly and seriously.  In these particular verses Isaiah is offering an invitation to an abundant life, these verses speak of healing, faith and restoration.
"Come, buy wine and milk
    without money and without cost price…………
 Give ear and come to me;
    listen, that you may live.
I will make an everlasting covenant with you,
    my faithful love promised to David."   Isaiah 55:1-5
I will look forward to joining you all again via YouTube on Thursday, hopefully, for our morning Eucharist – see you when I return from holiday!
My love and prayers to you all as always.
Andrea