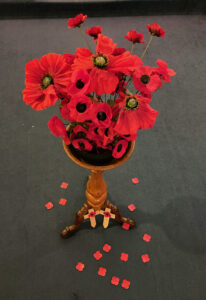 Our service on Sunday included an Act of Remembrance which was supported by a wonderful display of poppies reminding us of the fallen. There were the traditional hymns but also the hymn of peace which we always include in our annual service. The first reading was of psalm 46 with its wonderful message for the future and this was followed by Micah 4.1-4 and the Gospel from John 15.12-17. There are those amongst us those who still remember WWII and Andrea brought to our attention the work of women supporting the war effort and a vignette of these women, in relaxing mode,  in a suburban garden, in their green overalls doing star jumps whilst they took a break from manufacturing RAF devices in Hearn Hill in 1944!
In Andrea's message as well as remembering the sacrifices of the past she marked the men and women of today's armed services who continue to make extraordinary sacrifices – sometimes the ultimate sacrifice – in the cause of peace and for the preservation of freedom and justice reminding us that UKForces have been deployed in more than 80 countries around the world sometimes at a moment's notice. We remembered them all. But if you desire to read more ofAndrea's message of the relevnce of the Christian Faith you should read the complete message on our church website. – the modern communicator.
Our notices for the week included that of our Book Club, our weekly prayer group on Tuesdays, our said communion on Thursdays and our next Big services with Advent on Sunday 28th followed by our St Andrew's Day Patronal service on Tuesday 30th November where the wearing of the kilt is not compulsory and  we will welcome Bishop Kevin of our Glasgow and Galloway Diocese who will conduct the service. Refreshment after the service will continue and a new format has been devised after much debate but may NOT include fish and chips but instead some wonderful concoction from a very nearby retailer!!