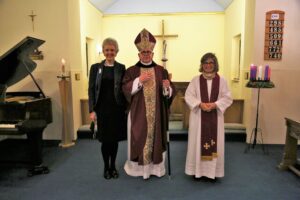 We were delighted that Kevin Pearson, Bishop of Glasgow and Galloway presided and preached at our  St Andrew's Patronal Festival on Tuesday evening. Some friends from other churches in Milngavie joined us too.  It was a pleasure to meet Kevin and his wife Elspeth for their first time at our church.
At this season of reflection during Advent, Kevin's sermon focused on the St Andrew's diagonal cross. He spoke of three parts, the two pieces of wood and the rope/nails holding them together and linked them with feelings of 'guilt', regret' and 'fear' that many of us may experience. Faith in Christ however leads to transformation and new life. The call to share this good news is as real for us today as it was for Andrew.
The heavy rain may have deterred some folk from venturing out on a dark evening but after the service those of us who gathered enjoyed fellowship over refreshments, several with a fishy theme, reminding us of St Andrew's early life as a fisherman.