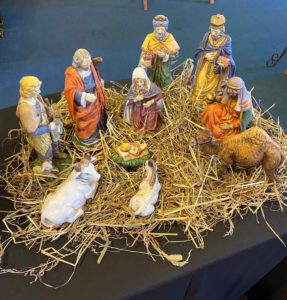 Last Sunday we completed our Christmas season by celebrating the feast of the Epiphany when the wise men arrived in Bethlehem to worship the new-born baby. Andrea, our rector, said that for us, Epiphanies are times when, like the wise men, we are called to a new place where we see the face of God in a new way. As the wise men saw God in a baby, so we can sometimes glimpse God's glory in ordinary, everyday life.
We were sorry to hear of the death of Archbishop Desmond Tutu, that heroic figure in the affairs of South Africa who also had a worldwide influence way beyond the Anglican Church. One of our members told us of a surprise visit many years ago by Desmond Tutu to the rectory of All Saints Bearsden, when his family was touring Scotland in a campervan and he was looking for a campsite.
Our services continue at 10am on Sundays, midweek on Thursdays at 10am when we welcome friends from other churches, and the Ecumenical Prayer Group at 10am on Tuesdays in the garden room at the rear of the church hall. Although other activities are restricted at present, we are making plans for when larger gatherings can meet again indoors.