Baptism of Christ / 1st Sunday after Epiphany 2022 St Andrew's Milngavie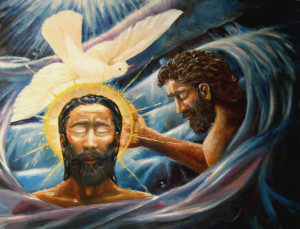 Dear All
Today we celebrated the Baptism of Christ in the season of Epiphany.  We sang some wonderful hymns, two of which are in my "top category of favourite hymns". The singing was joyful and uplifting although there was one awkward moment when halfway through the last hymn, Gordon on the piano, had to stop us and change down a key as we were clearly struggling to reach the range of notes!
Notices for this week:
Tuesday 10am Prayer Group in the Garden Room.
Thursday Holy Communion 10am
Readings for next Sunday – Second Sunday after Epiphany   Isaiah 62:1-5   1 Corinthians 12:1-11   John 2:11-11
Further news from the diocese and church can be found on the St Andrews website. Click on the link below.
https://standrewsmilngavie.church.scot/
Today's readings: Isaiah 43:1-7   Acts 8:14-17   Luke 3:15-17,21-22
This week has seen the lifting of certain travel restrictions.  News of great joy and relief, I suspect,  to people who need to travel for work or to catch up with family. However, many of us I am sure also look forward to a time when we can once again book a holiday and actually look forward to it for, we associate travel with holiday, adventure and fun.
Travel is also good for our spiritual well being: journeying to new places and experiencing different cultures and routines takes us out of ourselves, help us look beyond our own experience and educates our souls.
Last Sunday we celebrated the great feast of the Epiphany.  The focus was indeed upon the visit of the Magi, the wisemen form the East. Today we celebrate Christ's baptism. The key theme linking these two feasts is that of spiritual journey.
Exactly 161 years ago, on 6th January 1859, William Chatterton Dix was ill in bed.   As a devout Christian, knowing that it was the Feast of the Epiphany, he read the Gospel for the day in St Matthew's gospel.  Here St Matthew recalls the journey of the wise men that followed a star to find the infant Jesus. They acknowledged him as the promised Messiah and offered him gifts of gold and frankincense and myrrh. Inspired by that Gospel, Dix wrote what has become one of the most popular Epiphany hymns, 'As with gladness men of old, did the guiding star behold'. Like many other Epiphany hymns and sermons, it takes up the theme of the journey, the pilgrimage, of the Magi.
TS Eliot in his poem, 'The Journey of the Magi', spoke of the journey being at the worst time of the year, and a journey full of dangers, yet a journey on which they didn't hesitate to set out, because they were so keen to find Christ Child. There they found in the infant Jesus true divinity.  The God who comes among us offering love and grace to all, and points us on our own human journey towards pure Divine Love.
That same theme of 'journey' lies at the heart of today's feast: The Baptism of Christ. When we're baptised, our parents set the scene for our own Christian journey.   Parents and Godparents renew their own Baptismal promises, and they promise to immerse their children in the faith of the Church through their own spiritual journeys.
Now, if we begin to draw these themes together, we can see that Baptism is linked closely to the resurrection, that paschal mystery, which speaks of a movement from death to life, a journey experienced by all Christian people. When we're baptized, we rise with Christ and live with Christ all the way through to eternal life.
From this basis we see that baptism is a great gift from God to us, whoever we are, whatever age we are, whatever we have done, or whatever we might yet do. Christ invites us to make a lifetime's journey into God's Love. Each of us is here is on a spiritual journey and God intends it to be the adventure we've always longed for, either intentionally or unintentionally.  It is my belief that it is an adventure we all need.
In the 5th century, St Augustine echoed this sentiment when he wrote, 'Our hearts were made for you, O God, and they are restless until they find their rest in you.' 
Journey is synonymous with the human experience. We often refer to a significant life experience as a journey.  That was quite a journey we might say as we reflect on a certain experience. This current pandemic is certainly proving quite a journey for everyone.
As we begin a new year we may contemplate on journeys past and journeys  yet to be undertaken.  We look at the future with a mixture of hope, anticipation, uncertainty and perhaps even fear. As we travel may we know that we do not travel alone, this is a significant Christian belief.  I love the words from the prophet Isaiah which we heard this morning  spoken to the people in exile who so needed to know that God had not abandoned them.
These words speak to us today.
"Do not fear for I have redeemed you
I have called you by name you are mine
When you pass through the waters I will be with you
And through the rivers they will not over whelm you
When you walk through fire you shall not be burned
the flame shall not consume you
For I am the lord your God"
A God who loves us personally, who will always be with us, supporting and encouraging us in whatever we do and whatever journey we undertake. Amen