WE WOULD BE VERY GRATEFUL IF YOU COULD SPREAD THE WORD IN ANY WAY THAT YOU CAN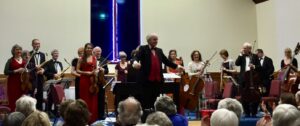 The clock will be turned back musically on SUNDAY the 24th of April at St Andrew's Episcopal Church Milngavie when the 'Salon Orchestra' gives 2 concerts in aid of the people of Ukraine. The 2 concerts at 3.30pm and 6pm will be a melodic reflective programme of the past. Local violinist and ex co- leader of the BBC Scottish Symphony Bernard Docherty will feature in a performance of the "Meditation from Thais" and cellist Myra Chahin will play the haunting "Lament " by Foulds.
The Salon Orchestra was originally formed in the 1980s from principal players in the BBC Scottish Symphony Orchestra. Their programmes were introduced and conducted by the well-known broadcaster, journalist and enthusiast amateur musician NEVILLE GARDEN. In its heyday the small orchestra toured the whole of Scotland from Shetland to Dumfries, performing music from a bygone age and replicating the repertoire of Max Jaffa, Semprini and the BBC Sunday evening programme "Grand Hotel " . The music in this programme will be unashamedly nostalgic, melodic and hopefully a welcome calm interlude in these difficult times.
Please come along and enjoy a brief encounter with Rachmaninov together with a night of gladness in these 2 afternoon concerts whilst helping the players who are mainly ex BBC SSO and RSNO members raise funds for the people of Ukraine.
Below is a photo of the orchestra when it performed at Baljaffray Church raising almost £5,000 for Leukaemia Research.
Tickets for the concerts are available from HAYDOCKMUSIC in Stewart Street, Milngavie.