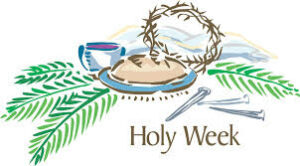 Dear All
Palm Sunday 2022
Today is Palm Sunday, the day when we remember Jesus' triumphal entry into Jerusalem. Palm Sunday also marks the beginning of Holy Week.
To mark this important Sunday, we had a special Sung Eucharist which included the Gospel of the Passion.  I always find the reading of The Passion very moving, and this year was no exception.
Thank you to all who took part and especially to Gordon who not only played all the music but also took the part of Cantor!
We were all ready for much deserved coffee and Veronica's delicious apple cake after the service.
Notices for this week:  Services for Holy Week
Tuesday 10am Prayer Group in the Garden Room.
Wednesday 13th April   11.30am Said Holy Communion at All Saints
Thursday 14th April  10am Sung Eucharist for Maundy Thursday with Stripping of the Alter
Friday 15th April  2pm Service for Good Friday
Sunday 17th April 10am Sung Eucharist for Easter Day
Readings for next Sunday – Easter Day – Acts 10:34-43   1 Corinthians 15:19-26   John 20:1-18