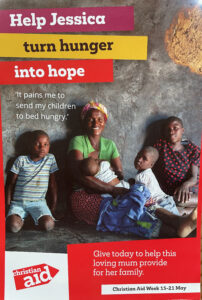 5th Sunday of Easter 2022 St Andrew's Milngavie
Dear All
Today we were once again a good number as we gathered to celebrate the 5th Sunday of Easter.
Yesterday a number of us enjoyed a lovely day out on the beautiful island of Inchcailloch.  The sun shone on us all as we tramped though woods of vibrant blue bells and ate our picnics on the loch shore.  Thank you, Tim and Jane, for organising this and Robert for taking some great pictures – now on the website.
Today marks the beginning of Christian aid Week.  You can donate via envelope, available at church, or via the internet – there is an e-envelope
in the name of Milngavie –  e-envelope | Christian Aid Week
Notices for this week:
Tuesday 10am Prayer Group in the Garden Room.
Wednesday 7.30pm Book Group – mine
Thursday 10am   Said Eucharist followed by coffee in Friendship House
Looking ahead…Queen's Jubilee   Saturday 4th June we hope to run a Flower Show in Church 10am – 4pm.  We will need 6 volunteers to be welcomers in the church for an hour each.  Friendship House will also be open. If anyone is able to help with the flower arranging, please let me know.
Saturday 18th June 2pm -4pm Summer Tea Party and Stalls in the hall and garden – volunteers also required to cover stalls and provide tea and service.
Readings for next Sunday – 6th Sunday of Easter – Acts 16:9-15    Revelation 21:10,22-22:5      John 14:23-29
Further news from the diocese and church can be found on the St Andrews website. Click on the link below.
https://standrewsmilngavie.church.scot/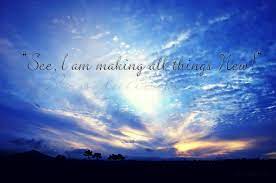 John 13:31-35
Rev 21:1-6
Acts 11:1-18
At home we have been watching the rather strange programme on BBC 2 called Life after Life, adapted from the novel by Kate Atkinson.  The story centres around a girl called Ursula who was born in 1910. Throughout her life she dies several times either through accident or illness but each time she is comes alive again, the sequence of events having been altered, and so she survives each potential catastrophe.  Consequently, her thoughts are dominated by a sense of death and déjà vu. It's great period drama but very odd, somewhat grim and quite mysterious. After a couple of episodes Stephen complained that he didn't quite get it. I replied that I don't think you are expected to, the story is a mystery, the concept slightly strange and therefore beyond our comprehension.
During the season of Easter our Sunday Scripture features readings from the book of the Acts of the Apostles, as we discussed last week, but we also have readings from the book of Revelation – like the television programme most people find the book of Revelation a mystery, slightly strange and hard to understand as such.  The main point to grasp is that it is a mystery, not to be understood in the detail but in the whole.
It describes the revelation of Christ to St John the divine in a vision.  Its full of imagery and symbols, poetic in language and expression. The reading this morning is a vision of heaven, it speaks of a new Jerusalem, new beginnings where pain and tears will be no more.
"Then I saw a new heaven and a new earth, for the first heaven and the first earth had passed away…… I saw the Holy City, the new Jerusalem, coming down out of heaven from God…….. God's dwelling place is now among the people, and he will dwell with them……..He will wipe every tear from their eyes. There will be no more death or mourning or crying or pain, for the old order of things has passed away."  Revelation 21:1…ff
It's a beautiful image of heaven, of new beginnings…
Central to all our Easter readings is the concept of love and the best expression of God's love for us is the resurrection, the ultimate new beginning. Today in the gospel Jesus instructs his disciples "I give you a new commandment, that you love one another. Just as I have loved you, you also should love one another. By this, everyone will know that you are my disciples, if you have love one for another."
When Jesus gave this commandment to love, it wasn't at a random time in his ministry: it was the night before he was crucified. It was his final teaching to the disciples before he died, so, he wasn't going to waste time telling them things that aren't important. Instead, he goes to the heart of the Christian faith and is saying to them, "Before I die, this is what you really need to know: love one another…"
This great new commandment is very challenging and can fill us with a great sense of hopelessness and failure, we all know about tough love. But we can be assured that this this commandment is given to disciples who were the same.  They don't seem to understand a word Jesus is saying, and who are shortly going to betray him.
Jesus's love for his disciples is utterly realistic. He knows the kind of people he has chosen, then and now. They are ordinary, fallible. To these people, Jesus entrusted and continues to entrust himself and his message. They are worthy because they are loved.
Knowing that we are loved and trusted by God is the beginning of fulfilling this knew commandment. We do not have to generate this love ourselves, because it is given to us. Christians are, most fundamentally, people who know that God is love, and we know it, not because we are better at loving than anyone else, but because we know that God has loved us and trusted us, even before we are either lovely or trustworthy.
This is divine love, mysterious perhaps at its core but a love that will sustain us through the difficulties and uncertainties of our earthly life until we arrive upon a higher shore into the Holy Mysteries of God's Kingdom.   Amen.