First Sunday after Trinity 2022 St Andrew' Milngavie
Dear All
Today we gathered to celebrate the first Sunday after Trinity.
Yesterday afternoon several of us enjoyed our annual summer tea party, this year held in the hall. – sadly, a bit too cold and breezy for the garden.  Many thanks for all who helped with the tea and setting up etc.   we raised just over £280 for church funds.
Notices for this week:
Tuesday 10am Prayer Group in the Garden Room.
Thursday 10am Said Eucharist followed by coffee in Friendship House
Readings for next Sunday – Second Sunday after Trinity:
1 Kings 19:5-16,19-21    Galatians 5:1,13-25      Luke 9:51-62
Today's Readings: Luke 8:26-39     Gal 3:23-29    Isa 65:1-9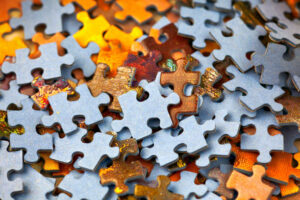 As I'm certain I've mentioned before one of my favourite indulgences is to do jigsaws.  Evidence of this passion was the very large pile of boxes that I produced for yesterday bric a brac stall, all containing my eclectic hoard of precious puzzles. I continue to be amazed by the amount of joy that can be had from this innocent hobby.  The satisfaction of finding the right small piece of cardboard that so wonderfully fits in place and helps build up the picture is amazing, the therapeutic effect of absorbing oneself so completely with something that is of absolutely no consequence equally so.
Today in our gospel we have the story of legion. It's a rather strange story of healing and redemption. But in an odd way reflects the concept of the Jigsaw puzzle. It begins with the man's name. 'What is your name?' Jesus asks, 'Legion;' he replies. He may call himself Legion but that is not his true name. Historically Legion refers to a Roman army unit of about 6000 soldiers.   So, when this man says that he is Legion he is implying, "I have been overrun. I am overwhelmed. My life is broken into 6000 pieces."
This man is lost to himself, he no longer understands who he is.  He has been dispossessed of himself and his humanity. His life has been shattered into pieces. He is alien to himself and alienated from his life.   All this leaves him vulnerable, naked, exposed, and unclothed.   He no longer lives in a house in the city, but in the tombs.
We may not be living quite like that but I'm sure perhaps sometimes we can feel a bit like Legion.  There are times when we lose our bearings in life and are not certain what direction we are going in.  It can be a place and time of separation, loneliness, and isolation. I'm sure each of us could talk about a time when our life felt like it was shattered and left in thousands of pieces. Pieces that we just could not put back together – dreams, hopes, bereavements, disappointments, faith and beliefs.
Whatever the cause…….. We have an idea what it is like to be Legion.  To be in that place.
But it is precisely into that place which Christ comes. Jesus comes to the Legion of our lives.  He did for the man in today's gospel, and he does for each one of us.  Jesus steps out onto the land of Legion. He comes to us as the one with inner clarity, focus, knowing, and understanding. He is the presence of unity, wholeness, and integration. He is the image of who we are and who we can become. That's why we continue to seek and follow Jesus as our teacher, guide, and saviour – our Good Shepherd.
In the gospel Jesus approaches the tombs in which this man lives.  He is not distracted by the man's condition, not repulsed by the man's nakedness or appearance.   He is not put off by the chains and shackles that bind this man's life. He is unchallenged by the guard.  Legion holds no power over Jesus.
"When the man saw Jesus, he fell down before him and shouted at the top of his voice, 'What have you to do with me, Jesus, Son of the Most High God?"
Then something interesting happens. Jesus asks his name. He recognises that the man has a precious identity.  The man replies "My name is legion" In other words, he sees himself as being thousands of people – the size of a Roman legion. No other words are spoken, either by the man or Jesus. But in that encounter with Jesus the man's innermost, raging, tumultuous self is brought to stillness and peace.
Jesus comes to this man; he dispels the demons and makes him whole. He puts the different pieces together and reveals his true self.
Yes, we perhaps know what it is like to be Legion.  We can tell that story.  It's our story also of our how our life can be put back together, how we can be given back ourselves, how we can be seated at the feet of Jesus, restored, forgiven and made whole.
The reading does not ask us to convert anyone to Christ as such but simply requests that we tell people what Jesus has done and what difference he makes in our lives. That is all we are asked to do; the rest is the work of  the Holy Spirit, all we are asked to do is to proclaim the Gospel and tell of the difference Christ has made to us.
This is the story Jesus wants told. It's a story that needs to be told!
"Return to your home and declare how much God has done for you." 
Amen