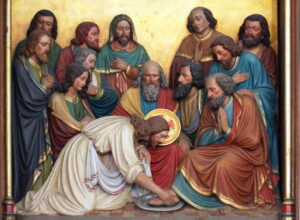 On the weekend of the celebration of the King Charles' coronation, Andrea focused on the theme of love and service, which included singing "The servant king" and prayers for the new king and queen as they take on their roles of service to the nation. We enjoyed singing with Abigail's accompaniment on the piano. There was a specially decorated cake to go with tea & coffee in the hall afterwards.
This Week
Tuesday – 10am Prayer Group in the Garden Room
Thursday 10am – Said Holy Communion followed by coffee in Friendship House
Sunday – 10am – Sung Eucharist
Upcoming events
18th May 7.30 – Sung Eucharist for Ascension Day when we are joined by the choir of St Michael's Helensburgh and folk from other local churches. Anyone who would like to sing, please come at 6.30 so that we can have a rehearsal beforehand.
20th May – Outing to Inchmurrin on Loch Lomond. Please let Tim or Jane know if you'd like to come so that we know numbers for the ferry from Balmaha. This promises to be a great day out. More details about time to meet will be given soon.
Today's readings
Acts 7. 55-60,   1 Peter 2.2-10,   John 14.1-14
Nest Sunday's readings
Acts 17.22-31,   1 Peter 3.13-22,   John 14.15-21