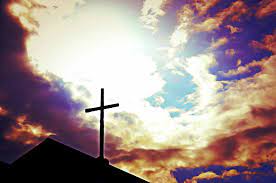 Today we celebrated the 7th Sunday of Easter. Once again Abigail treated us to a wonderful voluntary at the end of the service.
On Thursday we had a wonderful Sung Eucharist to celebrate Ascension Day – we welcomed the choir and organist from St Michael's, Helensburgh plus a few of us from St A's and All Saints.  Paul Watson, the Rector from St James the Less, Bishopbriggs preached a very inspiring sermon.   It was a great opportunity and pleasure for our regional congregations to worship together.
Yesterday a jolly group of us enjoyed a super trip to Inchmurrin on Loch Lomond.  The island was magical, we had lovely walk and then we all sat outside for lunch in the warm weather managing successfully to ignore the occasional spitting rain. Thank you to Jane and Tim for organising such a special day.
This Week
Tuesday – 10am Prayer Group in the Garden Room
Thursday 10am – Said Holy Communion followed by coffee in Friendship House
Milngavie Week – Flower Festival – Saturday 3rd June 10-4pm – once again we will be hosting the Milngavie Churches Flower Festival.  This year we have a programme of musical entertainment in the church during the day from 10am – 4pm.  Friendship house will also be open during at this time for teas etc.   Please do come and support.
Readings for next Sunday – Pentecost – Whit Sunday – Acts 2:1-21   1 Corinthians 12:3-13  John 20:19-23
Today's Readings – John 17:1-11,  Acts 1:6-14,  1 Peter 4:12-14; 5:6-11
I think most of us would probably agree that Goodbyes can be very painful. Inevitably, over the course of a lifetime we experience many such events. For example when children first leave home, good friends move away, colleagues find new jobs or when loved ones die. In short when the people we love move on.
In our gospel reading from John, we are witnessing just such a goodbye. In fact, all of chapters 13 to the end of 17 are a goodbye. They could be called the long goodbye, sandwiched between the raising of Lazarus, an echo of what is to come, and Jesus' betrayal and arrest in the garden of Gethsemane.These chapters are charged with the emotion of a painful but necessary farewell.
In them Jesus talks about what he has done and what it all means, not always it has to be said with great clarity. Jesus knows that they will not have time to say goodbye later, so now he talks of how the disciples are to behave and how they will be bound together in a loving community, giving them their distinctive and attractive nature as the people of God.
He tells them that things will not be easy without him but that they will be empowered by the Holy Spirit when he leaves.
In chapter 17 Jesus rounds it off with a prayer and what a prayer it is! I find this passage from St John's gospel so beautiful and moving – Jesus before his death is praying desperately for his friends, for those he loves and for those who will love him. And he does this in the same passionate way we pray for our loved ones, and we can imagine Jesus still praying for us in the same way as he sees the way we live today – the challenges we face and the world we live in.
In fact, for the last few Sundays of Easter all our gospel readings have been taken from St John's gospel – wonderful passages relating Jesus' final conversations with his disciples, words that reveal Jesus' true relationship with God and us and the true distinctiveness of his divinity. Words surrounded in mystery and love.
Last week he promises us the gift of the Holy Spirit, two Sundays ago, Jesus urges us  "Do not let your hearts be troubled, do not let them be afraid" John 14:1
Today Jesus prays for his disciples, he says "Holy father protect them in your name ….the glory that you have given me I have given them, So that they may be one, as we are one"    John 17:11
But what do we really mean by glory?
I believe to answer that question we need to look at the significance of the cross. Through the horror of the cross Jesus rose to new life, he overcame all that was bad.  The cross is a sign of victory over death and suffering.  And that marks the distinctiveness of Christianity, it's what makes Christ distinctive.
Jesus was more than a person who spoke the word of God, healed people, helped and encouraged them.  Through the cross he transformed them and became our saviour in the true mystical sense of the word. Jesus did not speak of being crucified, he spoke of being glorified. It is the Christian belief that we will share all the experiences of Christ. If we share Christ cross in our own suffering, we will also share his glory.
In the second letter to Timothy, it says, "If we have died with him we shall also live with him; if we endure, we shall also reign with him"   2 Timothy 2:11-12  It is Christ's promise that if we share his glory and his sufferings on earth, we shall share his glory and triumph when life for us on earth is ended.
From Jesus' prayer for his disciples which we heard this morning, he went straight out to the betrayal, the trial and the cross. He was not to speak to his disciples again. So, it is incredible to think that before those terrible hours, his last words were not of despair but of glory.
So may we take this glory to our hearts and let it become our glory.