At the beginning of March, on one of the few dry days, a group of six plus dog set out to fullfill one of the Talent Auction challenges : to find a broch in central Scotland. Most brochs, which are circular towers built about 2,000 years ago and are unique to Scotland, are situated in the far north and west, many in Orkney and Shetland.
We travelled by train to Larbert, changing at Hyndland where we had an unexpected encounter with Jane Joy, at Glasgow Queen Street. Ted, one of the rectory dogs, experienced his first train journey. From Larbert, which lies between Falkirk and Stirling, we walked along roads past the Forth Valley Hospital, which has fond memories for Peter and Jenny as it is their local hospital for Killearn. We turned onto the Old Denny road, which runs parallel to the M876 motorway, which we had to cross. We were wondering which of us was going to stop the traffic when we discovered that there is a footbridge.
Now we entered a quiet piece of countryside and walked along an increasingly muddy track. Fraser made the reassuring comment that the mud was nothing like as bad as other places he had been. Robert gallantly avoided photographing Andrea's miry tumble but he has provided a comprehensive pictorial record of the expedition.
We had our lunch at an elevated position with views as far as the Forth bridges and the Pentland Hills with the Falkirk Wheel nearer at hand. The turbines of a small wind-farm turned slowly in a soporific manner. A small detour took us to a blue pool, which is a brick-lined ventilation shaft from an old mine. Ted was encouraged to have a swim but no one else was tempted to join him.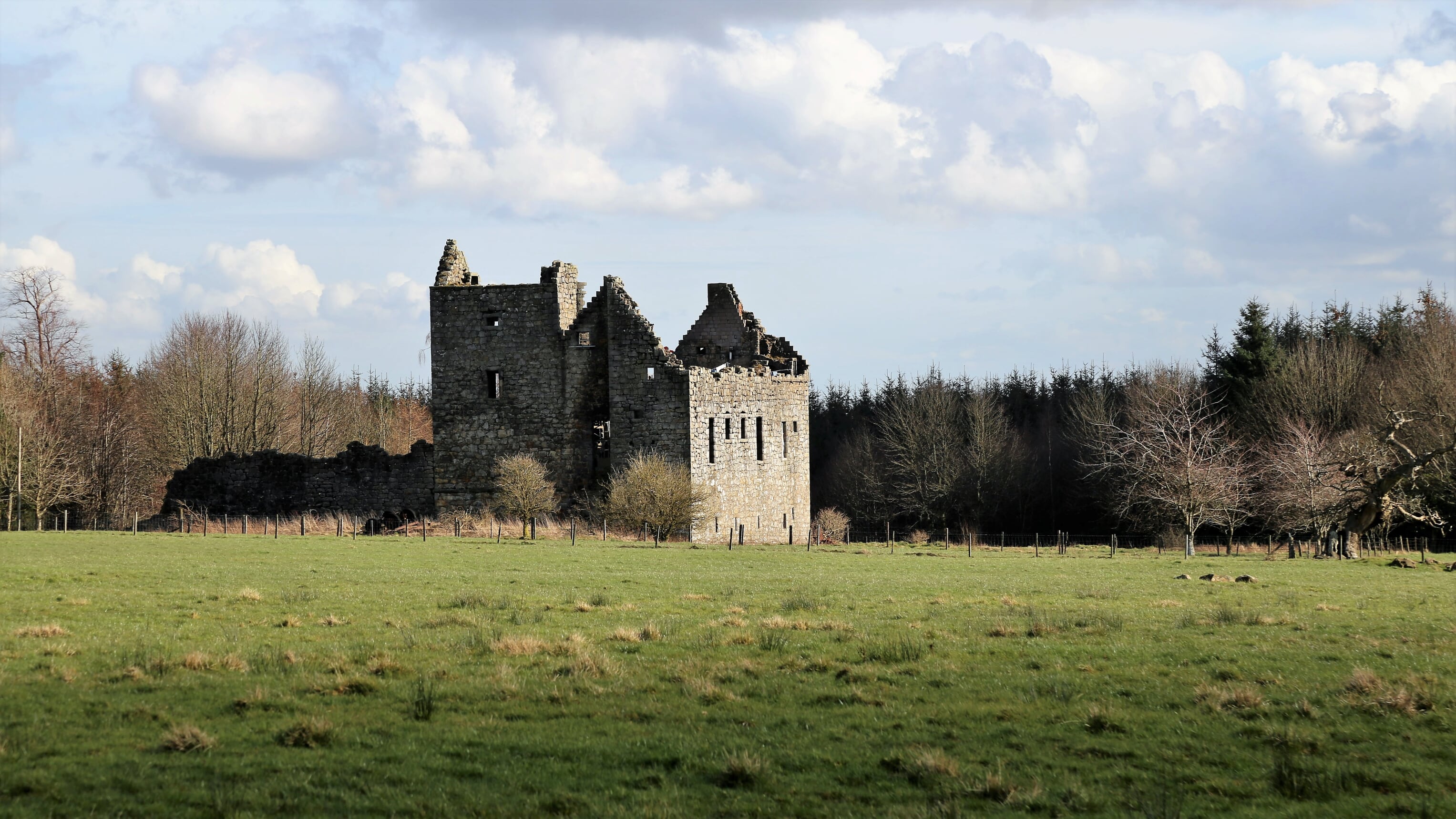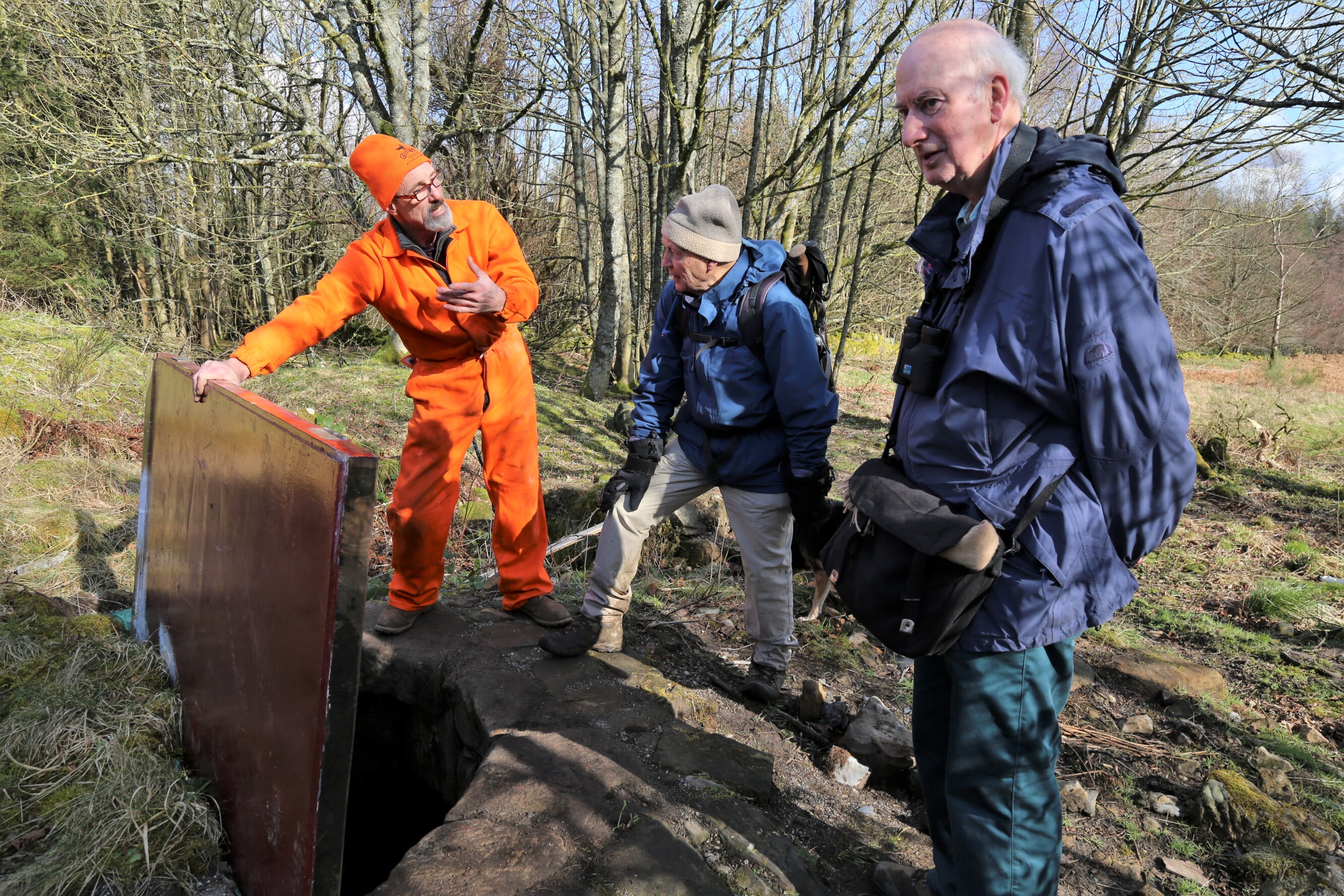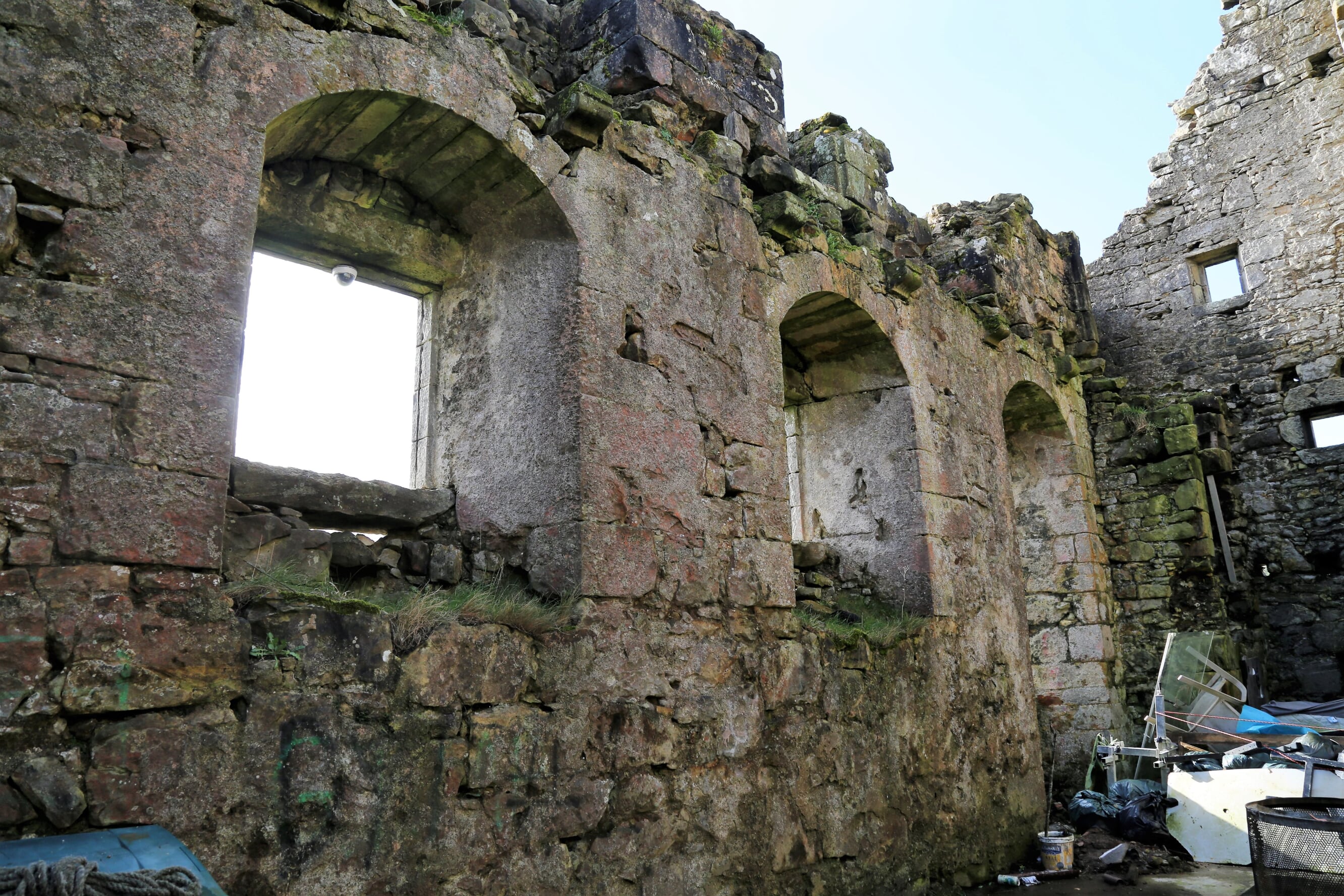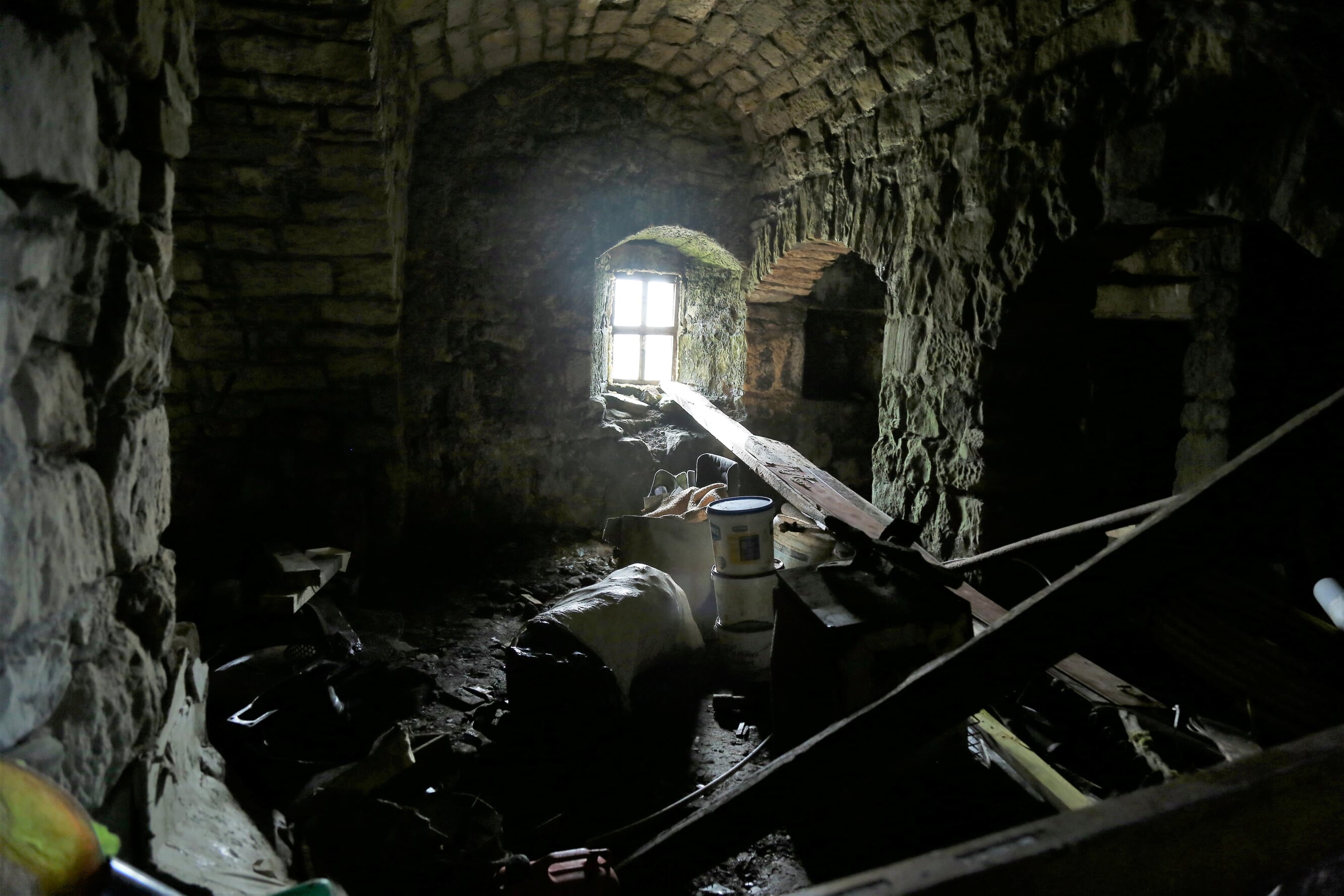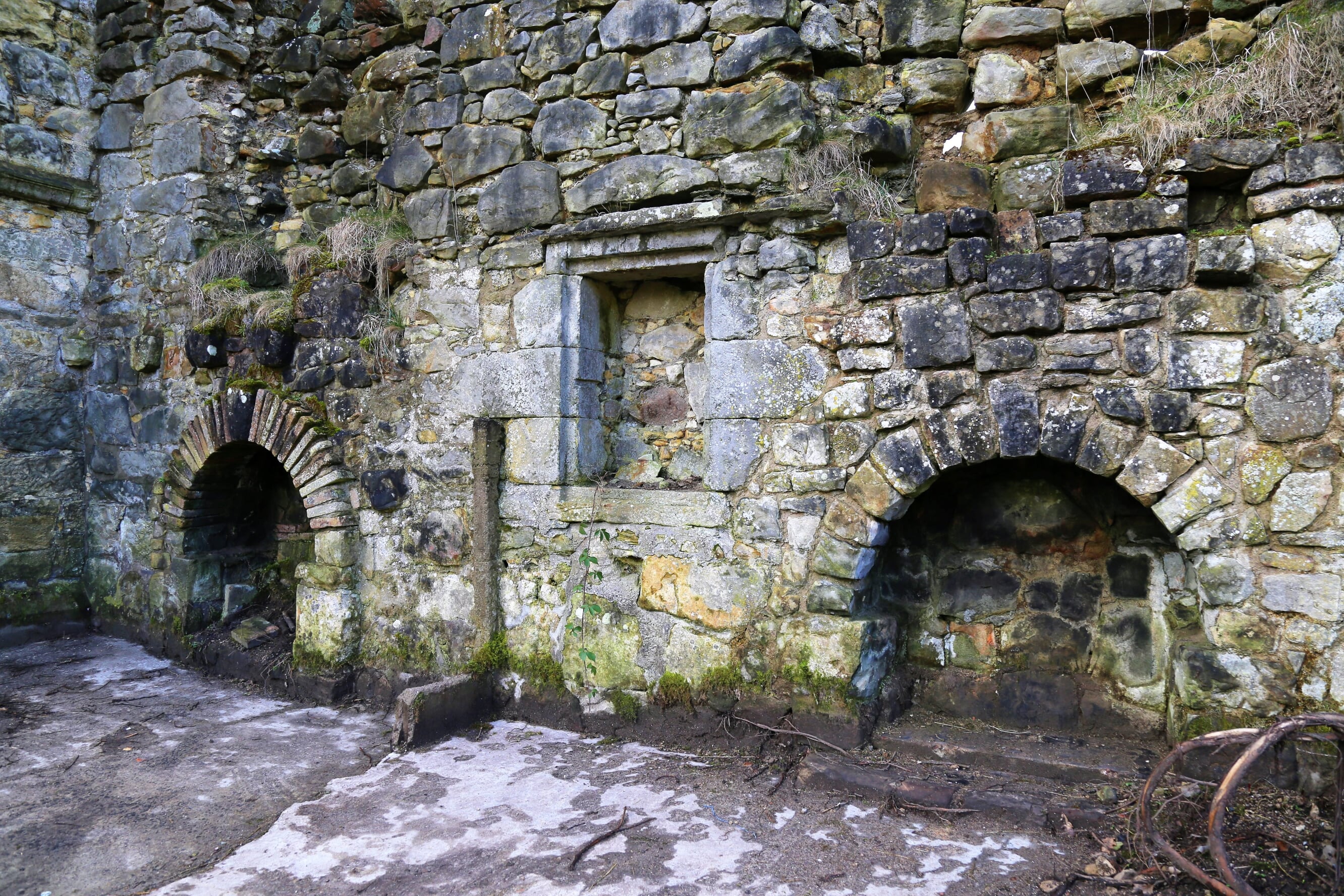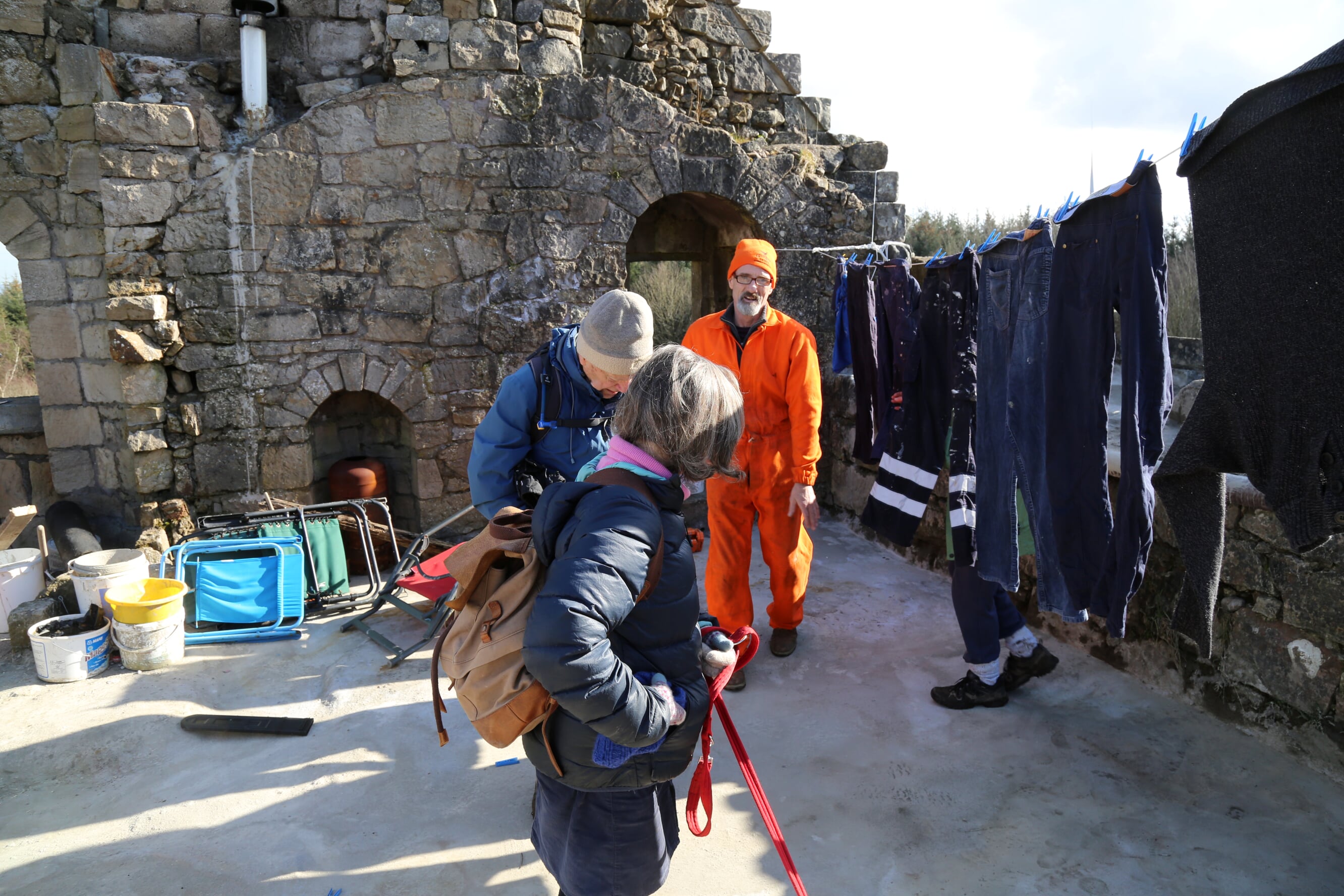 We crossed the route of an 0ld Roman road and  approached Torwood Castle, an impressive ruin overlooking the surrounding countryside. There was a car on the track outside and a boiler-suited figure on the ramparts. We were expecting him to tell us to go away but instead, he made his way down and gave us a warm welcome.  He first showed us the Roman well then took us into the castle, clambering over fallen masonry and up to the first floor where the Great Hall was open to the elements. We climbed higher, past a washing line where his clothes were drying; our friend lives in the castle which he is trying to restore single-handed. He showed us his living quarters, which were very basic, though there is an electric supply; I expect his toilet facilities were of the medieval type! We thanked him for his tour and continued on our journey.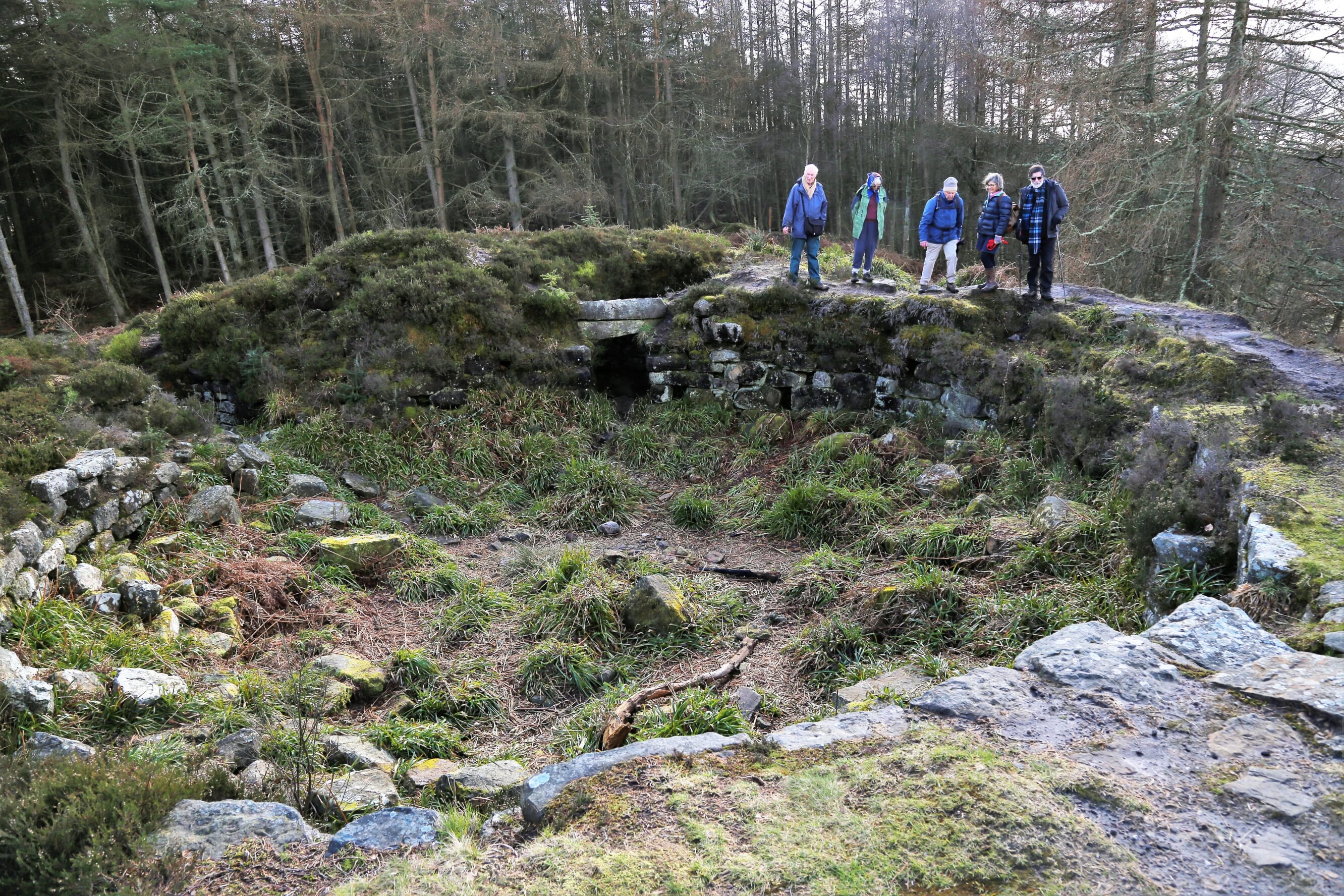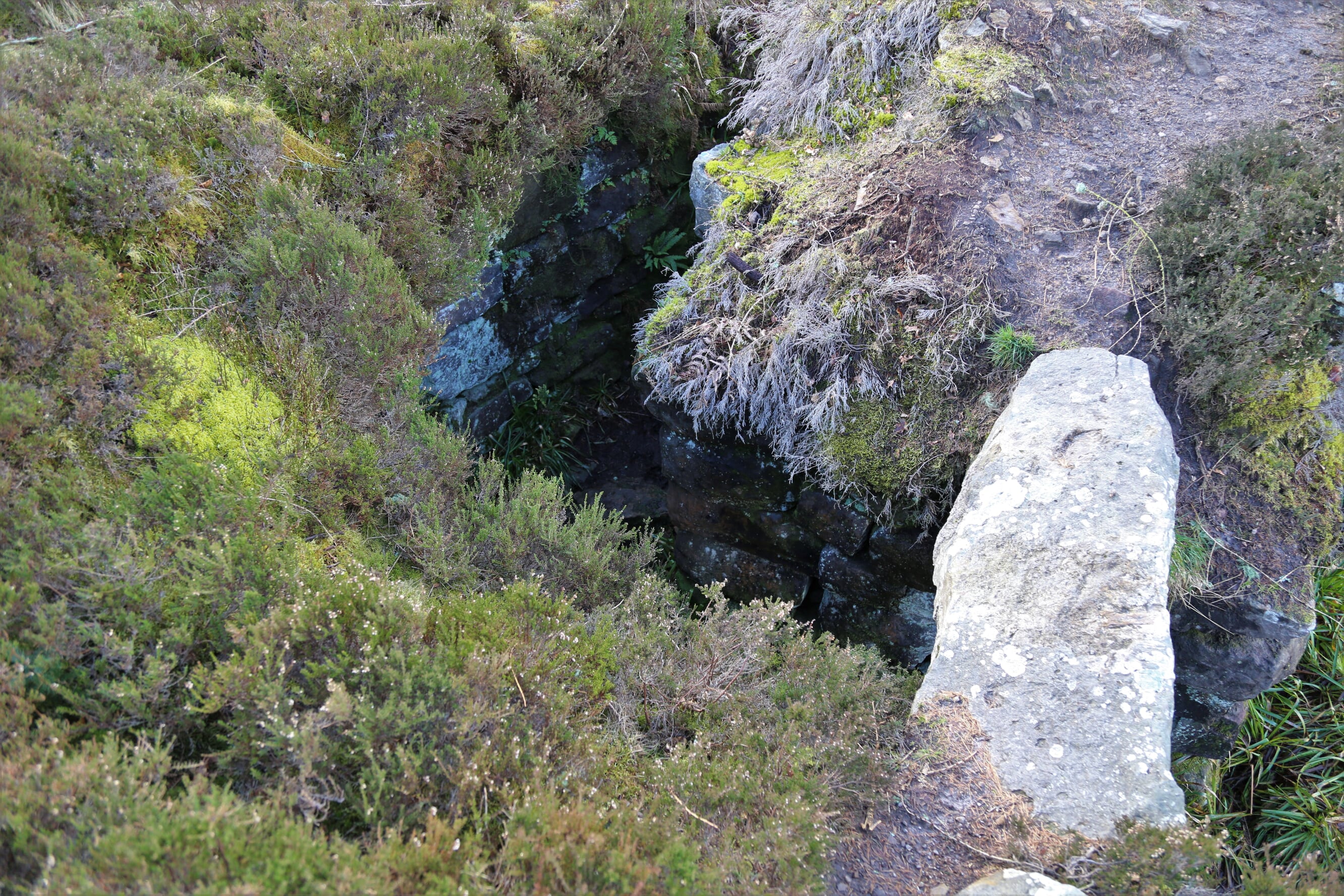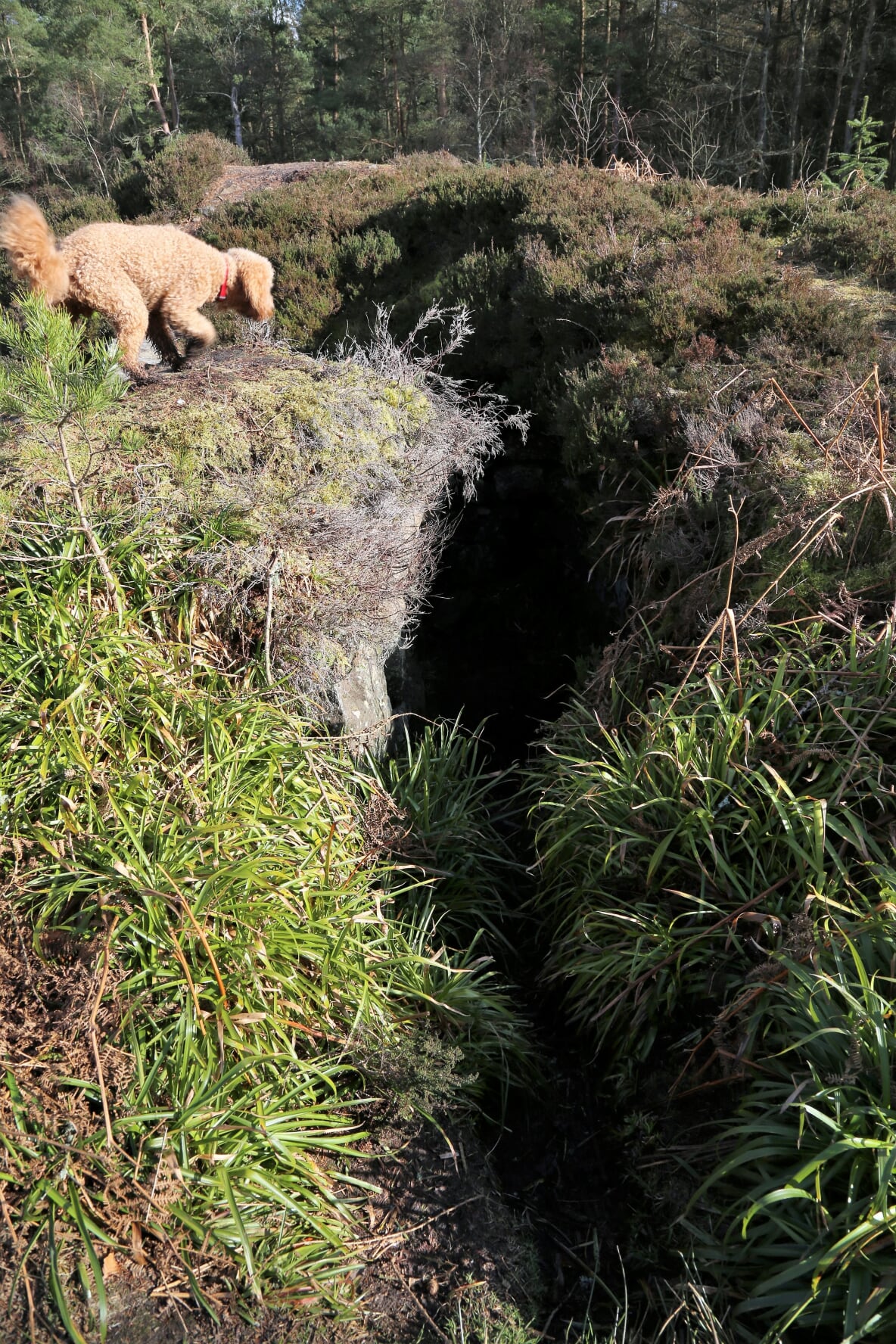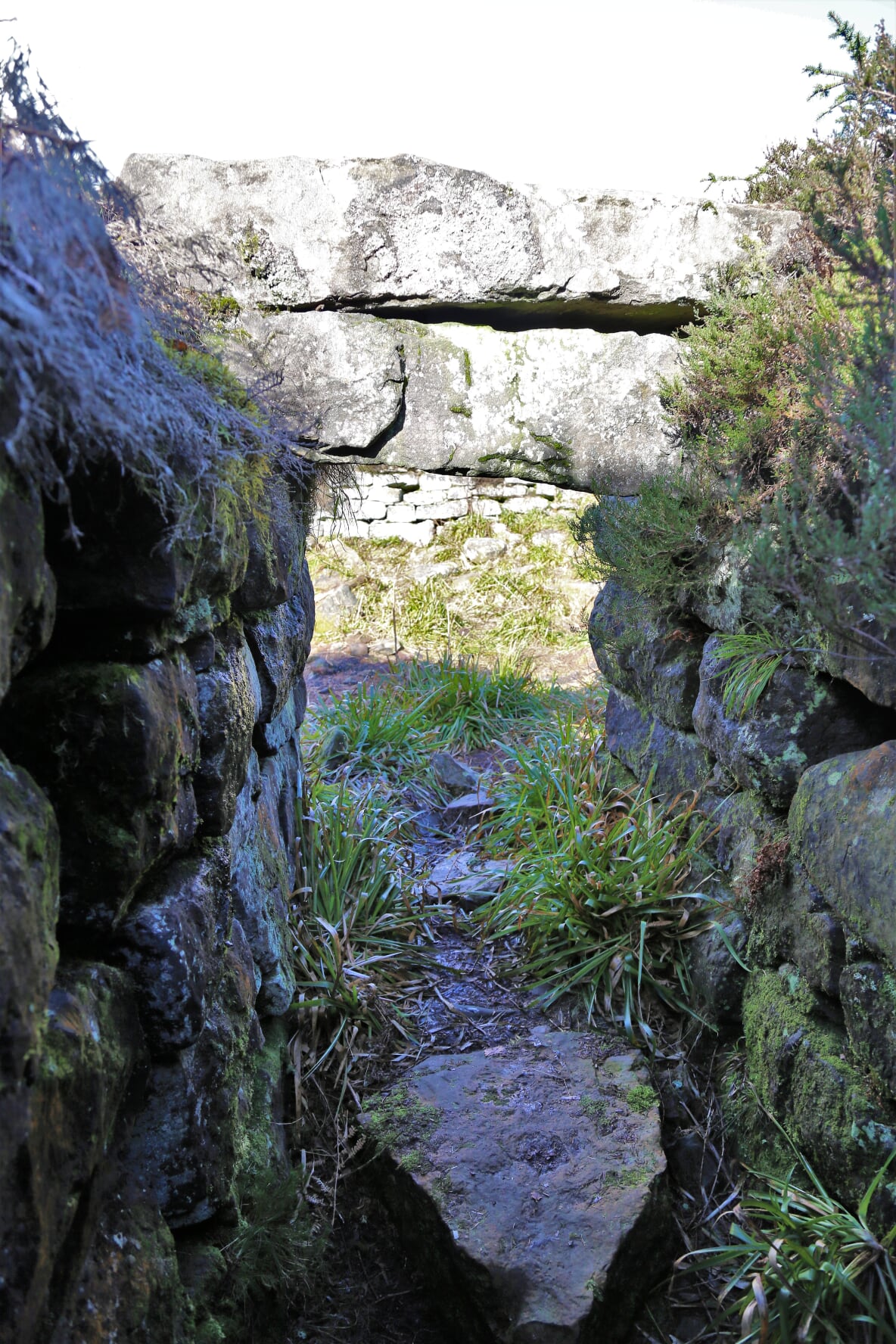 Soon we came to a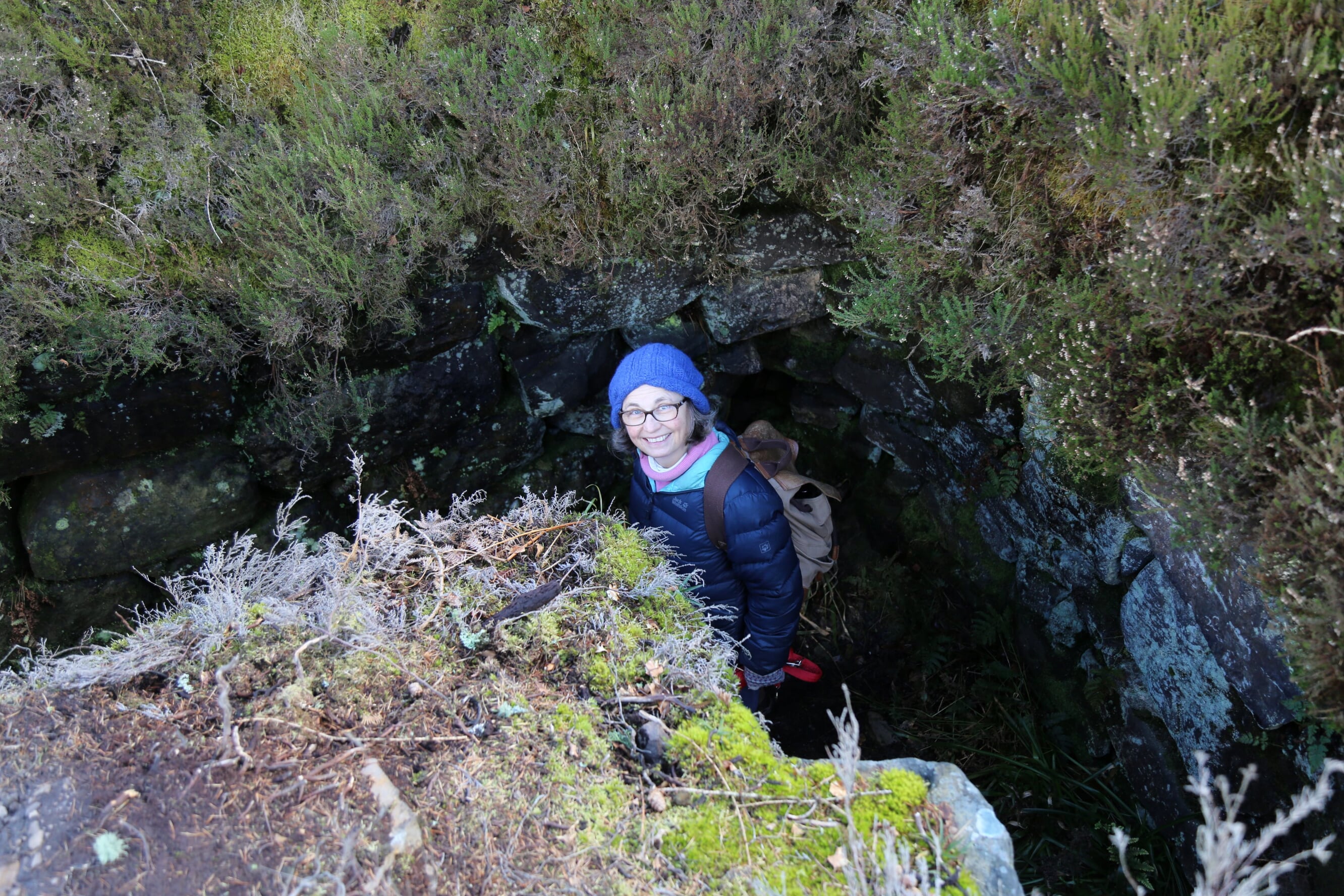 signpost pointing to Tappoch Broch, which convinced Peter that it really does exist. A narrow path through a wood led to a large mound on which were situated the remains of the broch, which consisted of large circle of stones and fallen boulders at least ten feet high and mostly covered in vegetation; very different to the manicured ruins of many historic sites. The view from the top stretched north to the snow-covered Ochills. We climbed down an uneven staircase between the double wall and stooped ( except Andrea ) under the stone lintel at the original entrance. We descended the hill through a dark pine wood to the small village of Torwood, where we caught the bus back to Larbert and the train home. Ted was worn out and slept on the train ; he had been very well behaved as had most of the other members of the group on a most enjoyable excursion.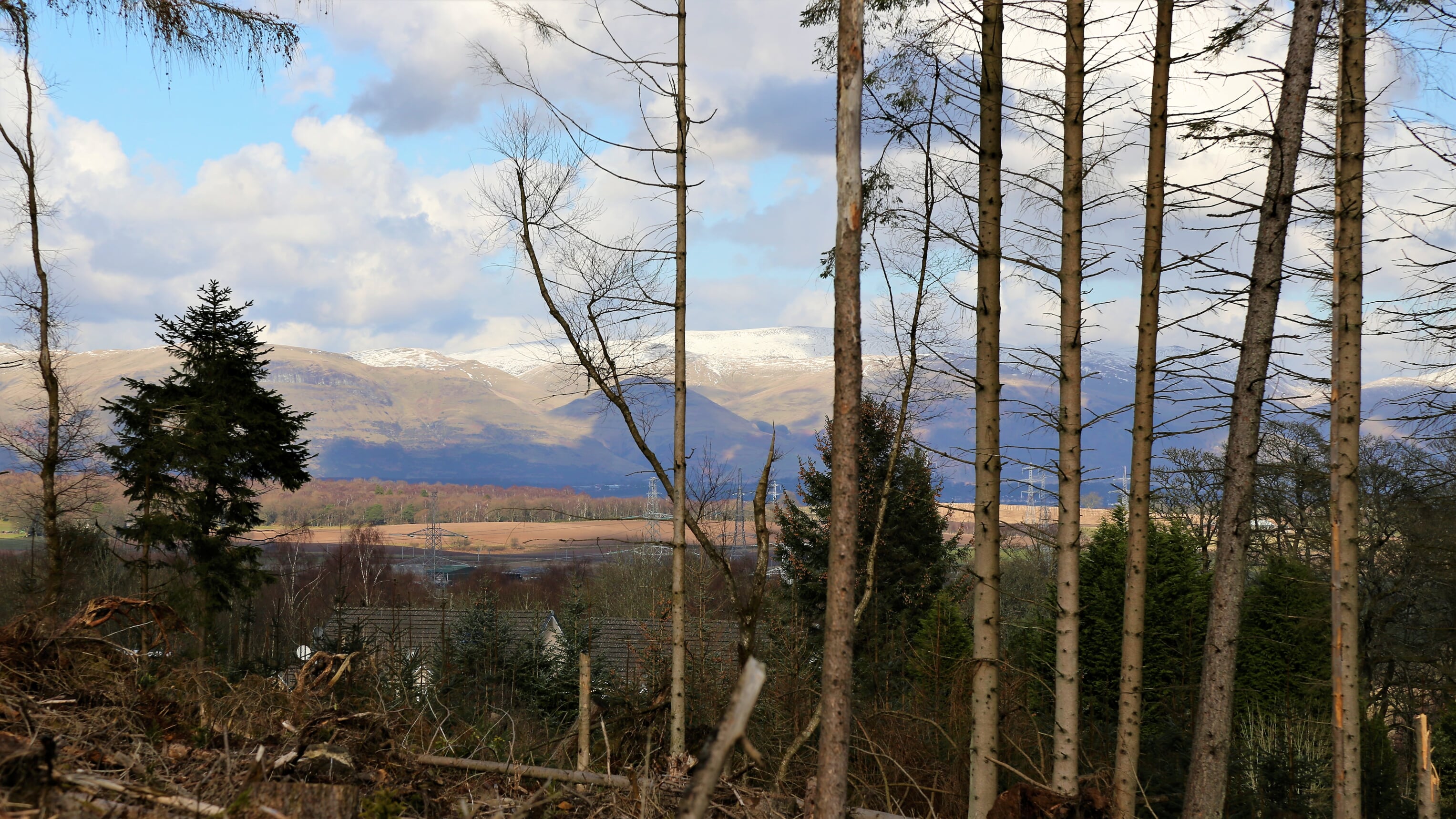 Thank you Tim for leading the expedition & providing this detailed and entertaining account and to Robert for all the photos.