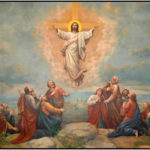 Jesus Christ is Risen.
He is risen indeed. Hallelujah!   
Acts 1:6-14
1 Peter 4:12-14,5:6-11
John 17:1-11
It was a great joy to be in the church on Wednesday filming the Eucharist.  St Andrew's was full of sunshine and light.  Despite the absence of friends and congregation it was still our dear place of worship which we all love, and which brings us much solace and hope.  I do thank Robert and Freda who have been keeping such a close eye on the premises for us.
You may have noticed that I have had another "Corona" haircut.  Its been a bit more drastic this time!  However, it is nothing compared to what Ted has undergone!  Richard has been busy with the clippers and no one it seems is spared.  But Ted is lucky.  I heard yesterday that Pets at Home were planning to open their grooming salons.  Apparently, they have over 40,000 dogs on their waiting lists.  One good thing about this lockdown is that it had encouraged us to be resourceful and adopt new skills. Today in our bible passages the texts, in a sense, reflect this theme.
Thursday was Ascension Day.  It is a somewhat mysterious festival as we think of Jesus saying goodbye to his disciples and then disappearing in a cloud to sit at the right hand of his father in heaven; his earthly ministry completed.  In St John's gospel Jesus prays for his disciples as he prepares for departure.  They have put their trust in him and will remain behind in the world after he has gone.  Jesus prays that the disciples might know God's protection and unity in all that lies ahead.  Like us they are having to adapt to a new way of life, in their case without an earthly Christ by their side.
In the passage from Acts the disciples are called to be Christ's witnesses in Jerusalem and in all Judea and Samaria and to the ends of the earth.  This is a great and daunting responsibility.  Christians are not to stand around idly wondering where Jesus has gone.  Their task is to make Christ known to the world.  However, Luke makes it clear that this great challenge is matched by an equally great enabling gift.   The disciples will receive power when the Holy Spirit comes on them.   This is one of the great themes of the New Testament: God offers gifts to enable his people to meet the challenges and tasks that he gives them.  Today the church and the world still need those gifts badly as we confront the challenges and opportunities awaiting us.
Finally, it is the passage from Peter that I really love.
 "Humble yourselves, therefore, under God's mighty hand, that he may lift you up in due time.  Cast all your anxiety on him because he cares for you.  Discipline yourselves; keep alert. Your enemy the devil prowls around like a roaring lion looking for someone to devour.  Resist him, standing firm in the faith, because you know that your brothers and sisters throughout the world are undergoing the same kind of sufferings.  And after you have suffered a little while, the God of all grace, who called you to his eternal glory in Christ, will himself restore you and make you strong, firm and steadfast"  Peter 5:6-10
This passage could almost have been taken from a recent government update.  The language sounds familiar: discipline yourselves; Keep alert; the devil – the virus in our case – roaring around looking to pounce; know that your brothers and sisters throughout the world are undergoing the same kind of sufferings…….
Here Peter, in his letter, is reassuring his people that they may cast all their anxieties on the God who cares for them.  Although the threat of adversity remains real, it may be resisted by standing firm in the faith in the sure knowledge that God will comfort and restore them.  A message that surely speaks to us also.
Christian Aid Week is now over but it is not too late to give.  The charity still desperately needs our financial support.  Several extremely poor areas of the world are suffering terribly from the virus and its ramifications. There are several ways by which you can donate to support the work of Christian Aid.
By internet.  Go to www.caweek.org
By telephone.  Call 020 7523 2269
By text.  Text GIVE to 70040 to donate £5
By post.  Send a cheque to Christian Aid, 35 Lower Marsh, London SE1 7RL.  Please note that cheques will take longer to process than usual. Please also consider Gift Aid when making your donation.
Tomorrow the Eucharist for Sunday will be available at 11am online. http://www.scotland.anglican.org/broadcast-sunday-worship/ Alternatively, you can access it by going straight onto the Scottish Episcopal Church website.
I will look forward to joining you all again via YouTube on Thursday for our morning Eucharist for Ascension Day. Please feel free to telephone me at any time.
My love and prayers to you all as always
Andrea
Loving God, bless and receive all who are affected by Coronavirus:
Especially:
Those who are sick and afraid
Those who are especially vulnerable
Those for whom home is not safe or available
Those who have lost their livelihoods
Those who have lost their lives
Those mourning for loved ones.
Amen