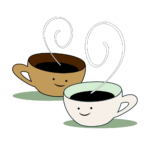 St. Andrew's Vestry had another successful Zoom meeting on Monday, so much so that we agreed to try a virtual coffee time gathering on Sunday for the whole congregation, following the usual Scottish Episcopal Church online broadcast service. Look out for an email invitation!
The aforementioned worship took place for Pentecost on 31 May at 11am, when the Rt Rev Anne Dyer, Bishop of Aberdeen & Orkney, celebrated the Eucharist from her home in Aberdeen.
Last weekend, a telephone service was introduced to allow those who do not have internet access to listen by telephone. The facility is free of charge for anyone calling by landline or mobile phone from within the UK.  Bishop Anne was joined virtually by the members of the congregations on Shetland, and music came from Trevor Jamieson (St Magnus', Lerwick), with the organist Michael Bawtree. A variety of people from Shetland, including Episcopalians from across the Islands and workers from NHS Shetland, contributed to a section of Bishop Anne's sermon.
Now that we are permitted to mix in a limited way, our Rector Andrea asks that we might please let her know if we'd like her to visit, albeit outside, socially distancing.  In any case, she looks forward to joining with us all again via YouTube on Thursday 4th June for our morning Eucharist for Pentecost/Whitsun. She wrote in her weekly letter to the congregation – as we continue to face uncertain times, our prayer this Pentecost is that we may receive afresh the gift of the Spirit; that it may enlighten and renew our souls, bringing us courage and hope.