Hello Everyone
I hope you are all well. I am delighted to say that today's reflections come from Fraser which I know you will enjoy.  Thank you, Fraser.
Please do join me for the Sunday Zoom coffee which is at 12pm 21st February.  I will send the email invitation separately.
Can I also remind you that on Wednesday 23rd February 7pm there is a Lent Zoom discussion for about 30 mins or so, just a chance to share our experience of the Ignatius retreat, see each other and exchange any other general thoughts we may have.
FIRST SUNDAY IN LENT 21 FEBRUARY 2021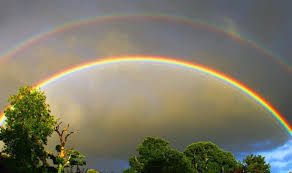 Genesis 9:8-17
1Peter 3:18-22
Mark 1:9-15
If we are to find something positive out of this last 12 months, it must be the memory of those settled spring days of beautiful sunshine.   Hard luck on the golfers who were told not to play, but others could now walk on those beautifully landscaped courses and enjoy the fresh colours.   There was little traffic and hardly a single plane using Glasgow airport.   The fresh spring colours looked specially clean and bright, and the sky was the clearest blue I have ever seen.   As autumn gave way to winter and the weather was not as pleasant, I found that going into the garden at night, the sky contained more stars than I had seen for years.   Had the air traffic we had got used to put so much pollution into the atmosphere that this beautiful sight been taken from us?
These thoughts came into my head as I read the passage from Genesis, and the reference to the rainbow with its special spectrum of colours.   The great flood has ended, and God now speaks to Noah.   The rainbow is the sign of God's Covenant revealed to Noah.   This Covenant  is promise made by God to ALL humankind.   A covenant is a legally stated agreement, like a marriage, and is binding.   So God says He will no longer use a flood to punish human sin.   This covenant does not just cover one tribe, family or other group of people.   It is for all people and covers all living creatures.
The implications of this are immense.   One facet is God's loving care for all creation, and within that, the whole of humanity.   This explains why the prophets so frequently use the language of family relationships to describe God's dealings with His people.  Another facet comes from the promise that God will not break his side of the covenant in relation to the environment. Never again will He punish humans with a great flood again. Humans can still go against God's will, but the consequences are now their own responsibility.   Remove tree cover and damage the environment: pollute the atmosphere and damage human health…..  It isn't an easy picture, but it is an ongoing challenge.
Think also of the implications for human relationships.  If we are all made part of God's family, we are then in one human family together.   This is why we have to remember the Holocaust and with it other examples of persecutions of groups in Bosnia, Burma etc.   Closer to home we have to take a stand against abusive comments about individuals just because they belong to another cultural or racial group.  'Black Lives Matter' – Yes they do.
We could ponder the implications of God's Covenant during this Lent, and pray that we all may be in a position to pray with the  Psalmist:
 'Well I know that I shall see the goodness of the Lord
         In the land of the living
Wait for the Lord: be strong and take courage
        And wait for the Lord' (Psalm 27 NEB)
'Meanwhile missing being all together in our own setting, worshipping, taking communion and chatting.'
Love
Fraser